Venetian Blinds
Harmony Curtains and Blinds offer a magnificent range of venetian blinds to suit every budget and style, and each is made to measure.
The aluminium venetian is specifically designed to allow greater control of the angle and degree of light entering a room. A versatile and practical option, the venetian blind enables one to see out without others looking in. Available in a vast range of decorator colours, this blind is valued for its streamlined profile and sleek contemporary look.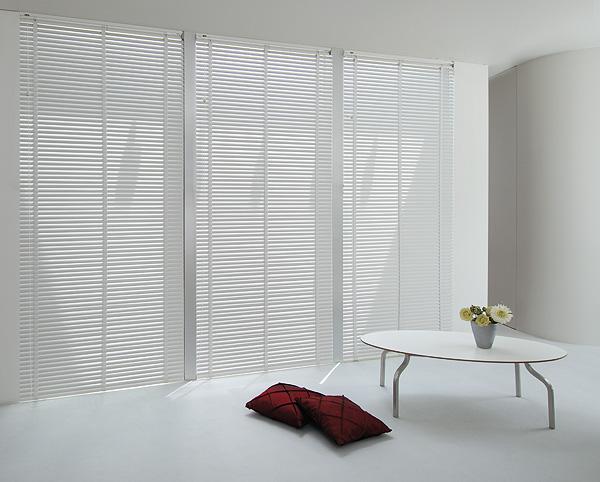 If it's good value that you're after, imitation timber (pvc) venetian blinds offer the timeless beauty of wood with modern technological expertise. Made from high quality polymer materials in a wide range of UV-protected colours, the moisture resistant properties of this range make it ideal for use in wet areas such as bathrooms. In addition, because the slats can be washed in water, they are well suited to areas such as kitchens where dirt and grease tend to build up quickly. The blinds feature a crash-proof cord lock for smooth operation and better safety. Available in a range of plain and wood grain finishes, these hard wearing and durable blinds clearly offer a cost effective and attractive alternative to wooden blinds.
If you're looking to add value to your home, nothing beats the natural warmth, strength and versatility of timber venetian blinds. Harmony's cedar blinds feature a variety of blade sizes, and a low profile headbox to conceal the operating mechanisms. Available in a wide range of oiled and lacquered finishes, the timber venetian blinds are suited to both casual and formal areas. Moreover, they offer excellent sound absorption capabilities, a smooth and quiet operation, and a low cost alternative to plantation shutters.
Harmony Curtains & Blinds
Mobile Service across Melbourne, Geelong & Surrounding Suburbs.
Trading hours:
9-5 Monday to Friday
9-3 Saturday
Closed Sunday

Tel: (03) 9369 3550
Mob: 0450 650 866
or Email Us